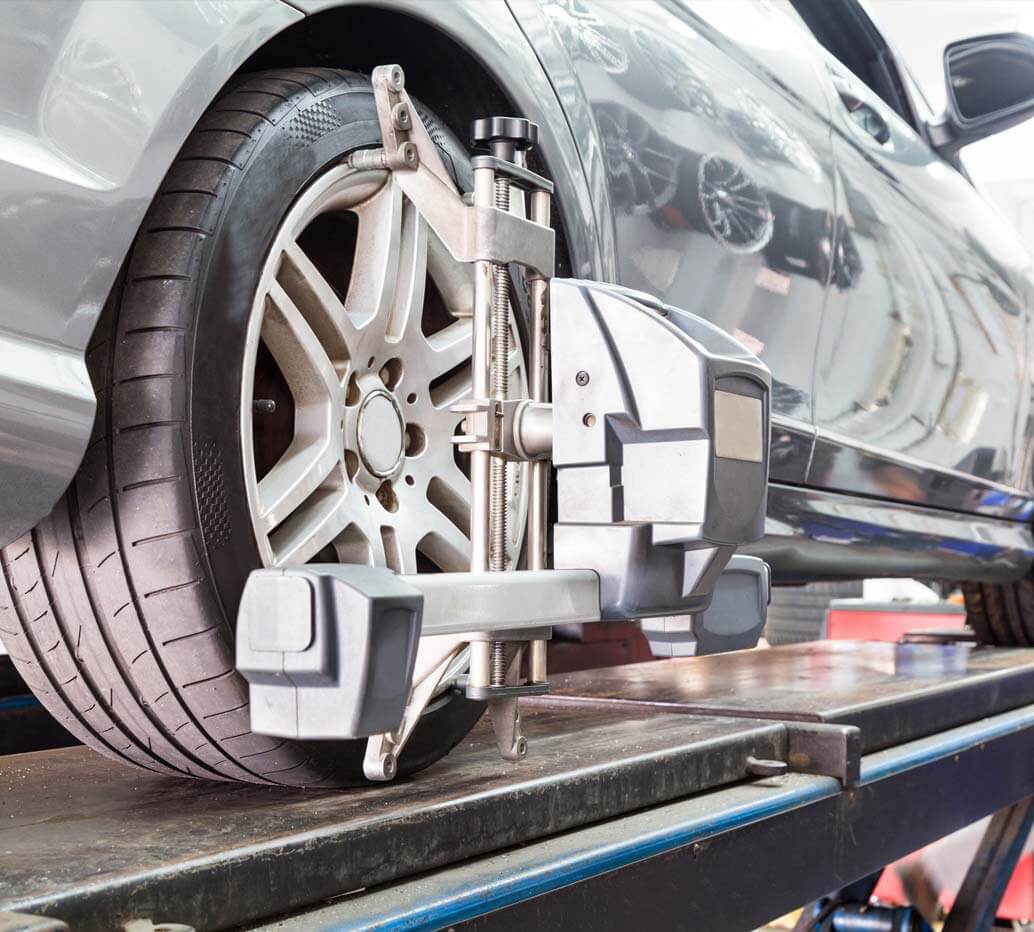 A wheel alignment is one of those services that requires a specific expertise and up-to-date instrumentation and diagnostics. Rely on the expert technicians at eAutoCollision.com for preventative maintenance. They'll not only align the wheels of your vehicle; they'll take care of all your automotive needs. Serving all five boroughs in New York City since 1999, they've come to be the premiere service center in the city. You know that you and your passengers are safe when your wheels are aligned at eAutoCollision. Call now to book an appointment.
What Is a Wheel Alignment?
A wheel alignment refers to how all of your wheels are placed, angled and weighted, compared to each other and the car's body. If one wheel sits at even the tiniest bit of a different angle from the others, it causes handling problems and improper wear. Most cars should have a wheel auto alignment service done at least every two or three years.
The various angles of your wheels fall into four categories:
Toe is the angle that your tires turn out and inward when you look at them from above.
Camber refers to the angle when you view them from the side.
Caster is the backward or forward angle, related to the steering axis when you view it from the side.
Thrust refers to the measurement that compares the center of the car to the direction of the rear axle.
It takes the experience and proper tools of an expert at eAutoCollision.com to understand and perform the best wheel alignment. And this is part of the service you get from the Brooklyn-based auto repair shop when you rely on them for all your preventative maintenance. They've been serving Brooklyn, Manhattan, Staten Island, the Bronx and Queens with quality workmanship since 1999.
How Do I Know if I Need a Tire Alignment?
Your trained, OEM-certified technicians at eAutoCollision let you know when any of the angles are misaligned. At the same time, some telltale signs you may notice when you need an auto alignment include:
The car starts pulling to one side.
The steering wheel is turned when the car is going straight.
You notice poor steering wheel handling.
There are scraping, squeaking or clanking sounds while you're driving.
Your vehicle shakes or vibrates while driving.
You spot uneven tire wear.
The technicians at eAutoCollision can quickly make a diagnosis using advanced measuring technology if you're experiencing any of these issues. You should always keep a watch for these symptoms, especially if you drive an older or used car, but it's best to be especially aware if you have:
Experienced a recent accident
Hit a pothole
Hit a curb
Not driven your car in a while
Had tires replaced
Had driveline work done
Can Alignment Problems Hurt My Car?
Small problems with your alignment can translate to bigger issues. Think about the pressure on your car's mechanical system if your wheels are even one millimeter off in the direction they face. Some of the problems you can encounter include:
Uneven tire wear
Increasing pressure on your driveline
Steering issues that can cause an accident
If you do run into problems due to improper wheel alignment, the technicians at eAutoCollision provide the specific service you need to address the issue. Options include:
Steering and suspension systems repair
Tire repair
Brake repair services
As one of the most trusted auto shops in NYC, they would much rather help you stop serious problems before they start with preventative maintenance. Tire trouble and improper wheel alignment are easily preventable issues.
What Happens During an Alignment?
A front-end alignment is the most basic type of auto alignment since your front wheels really do the steering. But all alignments follow the same basic pattern:
First, your mechanic at eAutoCollision test drives your car to see if there's any shaking.
Then he performs a visual inspection.
Next, your car is put on a mechanical jack to inspect the underside.
Worn out parts, including tires, are replaced before doing the fine tuning so they don't throw off the measurements.
A high-powered computer system makes precise measurements and shows your eAutoCollision technician what needs to be adjusted.
One of the advantages of using eAutoCollision as your alignment shop is that they can perform any service a dealership can. They examine the whole state of your car, and if they notice alignment issues while doing a different type of service, they address the alignment issue before you get your car back. After an auto alignment at eAutoCollision, your car is ready to perform at its best. Contact eAutoCollision today for a wheel alignment service.