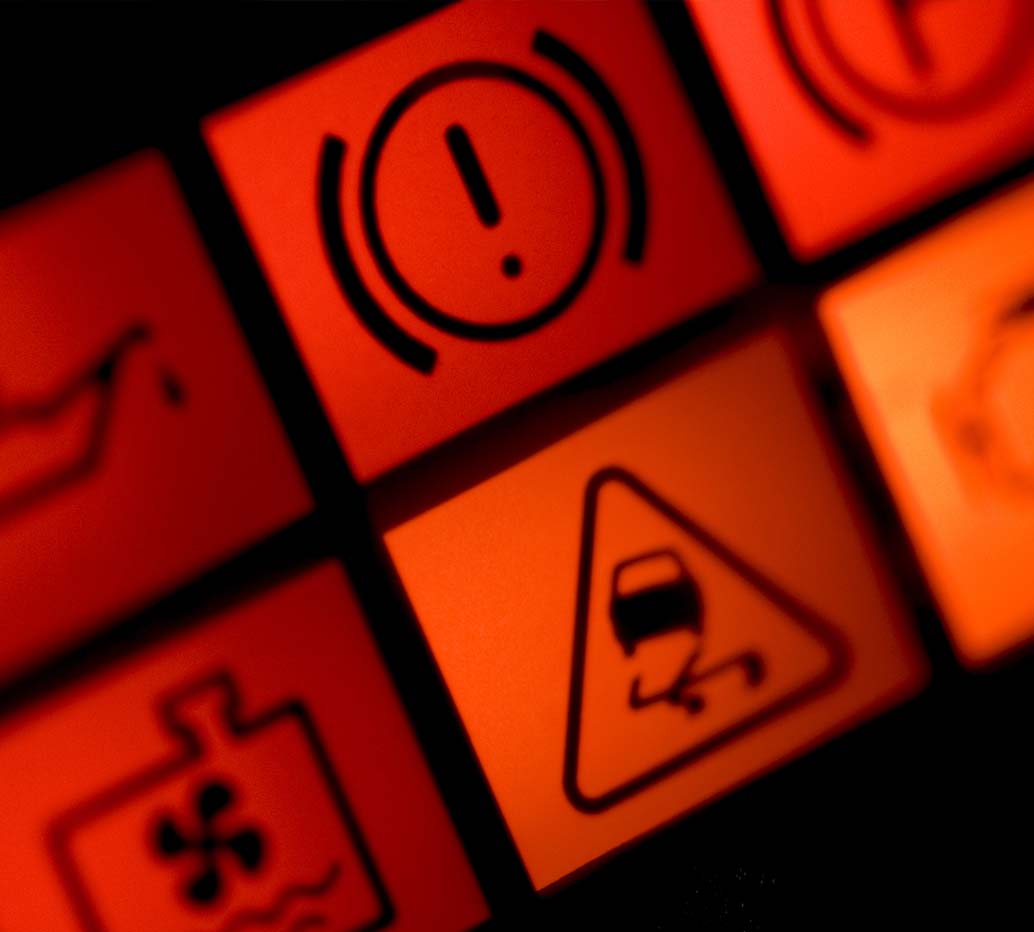 Warning lights aren't built in to your vehicle to annoy you. They turn on for a reason — to let you know that something isn't right. When this happens, you need a professional diagnostic scan to determine where the failure is occurring. While preventative maintenance usually catches potential problems before one those warning lights goes on, it's always possible you'll see one. Don't ignore a warning light — get a complete diagnostic and repair if you need it at your local repair shop. In Brooklyn, eAutoCollision.com is the best shop in New York City for quality, trustworthy diagnostics and repair. Call for an appointment whenever you see a warning light.
What Are Vehicle Warning Lights?
Warning lights are the display indicators on your vehicle's dashboard that alert you to any potential trouble. Even when you get regular preventative maintenance done on your car, truck or SUV, you still may encounter a warning light occasionally. And you must pay attention, especially to crucial warning lights, such as:
Check engine light
Oil pressure warning
Coolant temp warning
While all of these lights mean potential trouble for your car, you should consider blinking even more urgent. For instance, stop your vehicle immediately and call for a tow if your check engine light is flashing. The team at eAutoCollision.com offers 24-hour towing service for customers.
In Brooklyn, Manhattan, Queens, Staten Island and the Bronx, you'll get the attention you need in addition to access to the best auto repair shop in the City. Don't let a warning light go, bring your vehicle in for quick, effective service for a fair price.
What Are the Rest of the Car Check Lights?
Car dashboard warning lights have greatly expanded, and they now provide all sorts of information that may not be as crucial. Still, these car check lights are helpful, and you shouldn't ignore them. Depending on your vehicle's year and model, you may encounter any of number car check lights, including:
Reduced power warning
Transmission temperature
Overdrive light
Fog lamp
ABS light
Tire pressure monitoring system (TPMS)
Airbag fault
Service vehicle soon
Door ajar
Washer fluid reminder
Brake system
Catalytic converter failure
Oil change reminder
Traction control or ESP
Security alert
Gas cap open
Lamp out
ESP fault
Cruise control
Glow plug (diesel only)
DPF light (diesel only)
DEF light (diesel only)
Some of these lights may come on periodically during the ordinary course of driving. Others are helpful preventative maintenance reminders. A few mean your vehicle requires service as soon as possible.
If you're unsure of the meaning of any of these lights, stop by eAutoCollision. The experienced technicians check out the issue with the latest diagnostic tools for your personal or fleet vehicles. They specialize in computer programming of most lines, including:
Foreign vehicles
Domestic lines
What Are Modern Automotive Diagnostics?
In 1996, the Environmental Protection Agency (EPA) began to require all automobiles sold in the United States to have an on-board diagnostics system (OBD). The OBD:
Operates through a series of sensors placed throughout your vehicle
Gathers the status from each sensor
Alerts you to any irregularities through your car dashboard warning lights
While some of the messages may be obvious, others are more general, such as your Check Engine Light. What does that mean, exactly? In this case, you need the assistance of a professional with the right diagnostic tools. These handheld devices plug into an interface below your dashboard and communicate with your car's OBD. The process takes several steps:
The OBD sends a specific code to the diagnostic tool.
It describes what's precisely wrong with it.
Your eAutoCollision technician then interprets the results and makes the necessary repairs.
How Can Diagnostics Help Fix Your Vehicle?
The National Institute for Automotive Service Excellence (ASE) and the original equipment manufacturers (OEM) have certified the technicians at eAutoCollision. Once they've diagnosed the problem, you can rest assured that they can successfully repair your vehicle. In fact, they offer a 12-month or 12,000-mile warranty on all repairs.
If one of your car dashboard warning lights is advising you of trouble, eAutoCollision is ready to help. With a service center in Brooklyn, they've served customers from all five NYC boroughs since 1999. Contact the professionals today to figure out how to turn off a check engine light or any other annoying flashes with the best and most accurate diagnostics and repair.