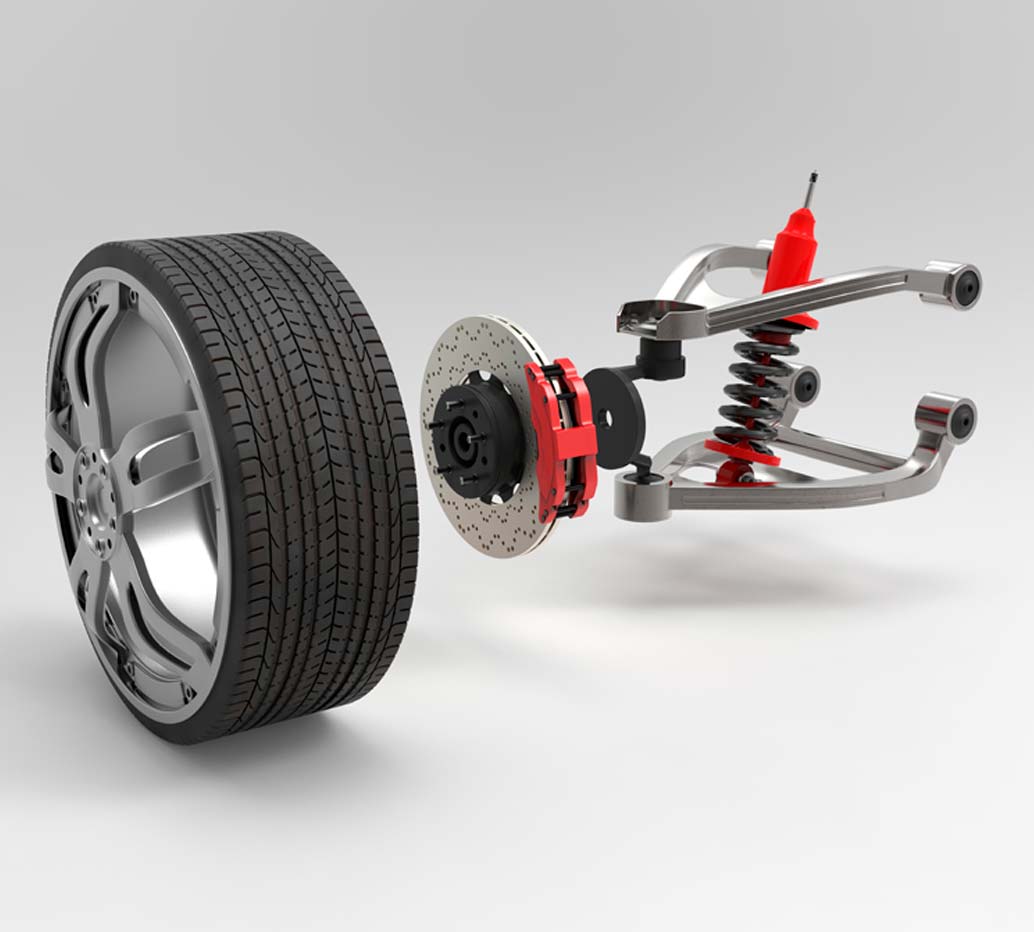 Smooth driving, tight steering and quiet riding are more than just comfort features you want in your car, truck or SUV. Those same features keep you and your vehicle safe on the road. The best steering and suspension experts at eAutoCollision monitor those functions closely when you rely on them for your regular maintenance. And when you need car suspension repair, they have the training and experience to diagnose and fix problems on foreign and domestic vehicles, as well as electric cars and hybrids. Call today.
What Are the Steering and Suspension Systems?
The steering and suspension systems work together to keep your car under control. In particular:
The steering system allows you to effortlessly control the direction of the vehicle.
The suspension system supports the entire vehicle.
It absorbs shocks and bumps and helps you enjoy comfortable riding conditions.
Regular service and repair of your steering and suspension systems are part of good preventative maintenance. Your owner's manual usually contains a recommended schedule for preventive maintenance services, which your OEM-certified technicians at eAutoCollision.com follow.
These trained technicians, who also are certified by the National Institute for Automotive Service Excellence (ASE), have served New York City drivers since 1999. They find problems while performing routine maintenance, alert you and make the repairs you agree to for a fair price.
What Are the Signs I Need Car Suspension Repair?
It's usually not difficult to tell when your car or truck needs suspension repair. Signs that you need steering and suspension systems repair include:
Your vehicle drifts to one side when you're driving in a straight line.
There's uneven wear on your tires.
Riding feels harsh or bouncy and you feel every bump in the road.
A corner of the vehicle sits low.
Your suspension system can become worn out after years of driving over potholes, railroad tracks and road debris. Worn suspension parts make it difficult for your vehicle to adapt to road conditions and may also make your vehicle unsafe to drive.
Make sure your repair techs use original equipment manufacturer (OEM) parts when repairing steering and suspension systems to ensure your safety. At eAutoCollision, you also get a 12-month, 12,000-mile nationwide warranty on all repairs.
What Are Power Steering Problems That Require Fixing?
The first sign that you're having a problem with your power steering system is when turning the steering wheel becomes harder and harder. Other symptoms of steering malfunctions include:
Puddles form under your vehicle, which may signal that you have a leak in the power steering fluid.
Warning lights appear on your dashboard, alerting you to low fluid levels.
Loud noises emanate from the steering pump while driving, usually caused by contaminants in the power steering fluid.
Leaks may come from a defective hose, the steering rack or power steering pump. All of these can be replaced easily. When debris causes steering problems, very often a power steering flush solves the issue.
What Can Happen to My Suspension System?
The most important parts in the suspension system are the struts and shocks. Common symptoms that indicate problems with them include:
It takes longer distances to stop completely.
The front end seems to dive downward when you stop.
Steering takes more effort.
Your vehicle bounces while driving.
You notice fluids leaking.
Other components of the suspension system that can become damaged or worn include:
Wheel bearings. Chirping, squealing, grinding or growling sounds often indicate bad wheel bearings. Your tires also may start wobbling. By the time that begins, you may have worn out the tires, which then need to be replaced.
Bushings and stabilizing bars. You'll feel swaying when these bars go bad. Changing the rubber bushing that the bars are attached to also may solve the problem and give you back tight steering.
Ball joints and rod ends. Your steering become erratic and you may hear clunking noises when these parts need replacing.
Coil springs. When you notice poor handling or drooping, it may be due to worn coil springs. When you replace the springs, you usually have to replace the shocks as well.
When Should Steering and Suspension System Parts Be Replaced?
Each part of the steering and suspension system follows a different manufacturer recommendation for replacement. When you're getting regular tune-ups and inspections at eAutoCollision, your technicians monitor the wear of your various parts and let you know when it's time to replace a part.
When you suspect damage after a collision or hitting a particularly deep pothole, the recognized experts in auto repair quickly diagnose the culprit and make the necessary repairs. Contact eAutoCollision to make an appointment for an inspection or at the first sign of steering and suspension problems.